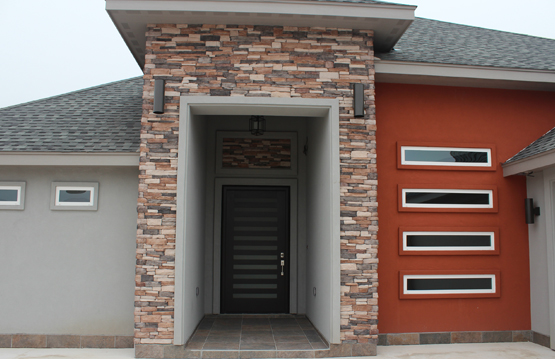 Welcome to Unique Homes
Unique Homes by J. Alvarez ("Unique Homes") is a full-service custom homebuilder in Brownsville, Texas and surrounding areas established by Jose G. Alvarez. Earning a reputation for design distinction, quality of construction, personal service and integrity, Jose insists on being personally involved in every home he builds, accepting only a limited number of clients per year. With well over a decade experience in residential construction, and his extensive background as a construction material business owner, Jose and his team strive to deliver superior quality, innovative designs, and outstanding customer service.
The creation of your custom home should be a personal experience for you and your family. Unique Homes approaches the home building process as a partnership built on trust. We encourage open communication with Jose every step of the way to make sure that you are fully satisfied with your new home.
You dream it, we'll build it! We offer the ability to build from one of our in-house custom plans. Within this process, we can design your home from scratch, or modify one of our existing plans to build a home that best fits your lifestyle. Already have a plan? We are happy to build from that plan, and combine your ideas with ours to create your dream home.
Building your home with Unique Homes, you will have the opportunity to explore some of the most cutting-edge building techniques and technologies – including Energy Star compliant homes that can be a great long-term investment.
We invite you to explore our website to learn more about Unique Homes by J. Alvarez. Contact us today. Let us make your dream become a reality!

Your Road to Home
Get Pre-Qualified
Early in the process, it is a good idea to begin speaking to a lending professional. They'll be able to lay the groundwork for your construction budget by finding out exactly how much you'll be able to spend. If you are in need of a lender, we are happy to recommend ones that have proven trustworthy and efficient throughout our years of experience.

Select Your Home's Location
A big part of the building process is selecting the location of your new home. The cost of the land will play an important role in your budgeting - and on occasion there are architectural controls within certain subdivisions that will also shape the way your home is designed.

It's Time to Design!
No matter how long you've been dreaming of your building project, you probably have a basic idea of the style and design that will best fit your needs. In our initial design meeting, we'll help shape your ideas into a construction plan.
Some things you might consider bringing to the initial meeting include a list of your must-have items, as well as the ideas you dream of incorporating if the budget allows. You will also want to bring sketches, inspirational photos, and any other documents that will help us design your project.
If you need some design guidance, you can start building your own custom home using one of our existing custom home designs!

Product Selections
Once the floor plan has been approved, it's time for you to make some exciting choices about the products that will be used.
We'll work with you to choose the type of materials to be used so that we can finalize the price. For instance, will the flooring be ceramic tile or porcelain? Will the exterior be brick, stone, or siding? We'll be available in every step of this process, explaining your options and offering our expertise.

Final Choices
It's time for the details! At this part of the construction process, you'll begin finalizing the details on your home such as:
Flooring Colors/Textures
Paint Colors
Stain Colors/Types
Trim Types & Colors
Shingle Types & Colors
Exterior color(s)
Plumbing/ electric fixtures

Finalize Your Investment
Unique Homes offers beautiful options to fit any budget! Rather than pricing our homes by square foot, we arrive at your home's final cost by adding all of the project's individual components together - this method gives you flexibility with your design and a better overall price.
Once we finalize the cost to build your dream home, you'll move on to the last step of the financing process with your lender. As mentioned above, we are more than happy to recommend trusted and efficient lenders that we work closely with.

The Construction Process Begins!
As the construction gets started, you're finally able to see your dream become a reality!